THANK YOU!
The build took place September 9-15, 2019.
There are so many to thank & we do not want to miss anyone!! Thank you to all of the Imagination Station Rebuild individual, group volunteers. Also, for any donated materials, supplies, services, equipment, tools, and more.
Thank you to the all that participated in the Picket Fence Engraving Fundraiser - over 425 and counting!!
All pickets have been placed as part of original project build. Thank you for your support.
For donor listings contact Trice Hawkins, City of St. City Recreation
[email protected]
or 810-329-7121 x3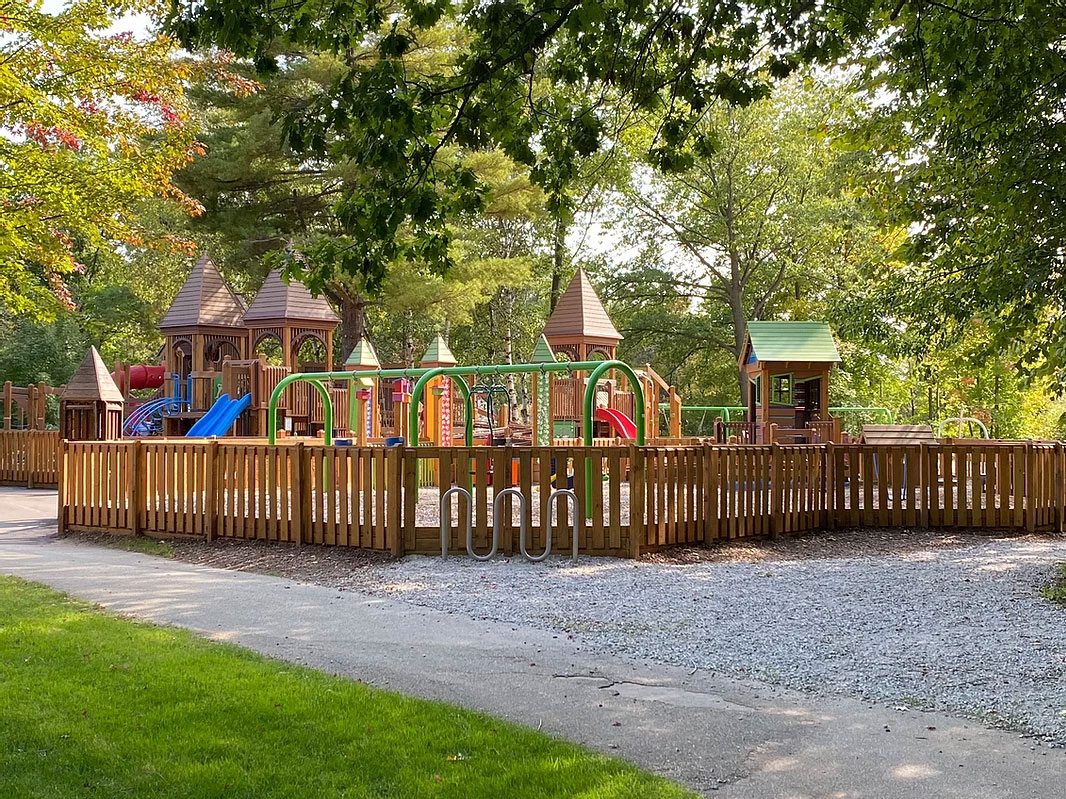 Advia Foundation
Jim & Lea Gonzales-Bier
Chemical Bank - St. Clair
Community Choice Credit Union
Coughlin Jewelers
Dewald Farm Property, LLC
Eddy Elementary PTO
Gearing Elementary PTO
Great Clips
Jessica Grace, MD
James M Gorinac Surveyors, PLLC
High Grade Concrete
Holy Family Episcopal Church - Thift Shop
Liberty Riders, Inc./Rattle Run Farm
Lowe's Store 0695
Malcolm Marine
Northstar Bank
Pine River Elementary PTO
T.G. Priehs
Quikcrete
The Roberts Family
Bill and Lydia Schwarz Charitable Fund

Paul & Delia Short
St. Clair Chamber of Commerce
St. Clair Chrysler Jeep Dodge Ram
St. Clair Garden Club
St. Clair Lions Club
St. Clair Women's League
The Stephen Frantz Family
Swampfoot
Waste Management - Think Green Grant
Women's Life Chapter #814
Allstate Foundation - Helping Hands
It's My Party Rental
Looking Glass Photography
Simply Giving Arbor
SMR-Marysville
The Voyaguer
Dale Carney Insurance Agency, Inc.
June Ingles
Mary Kay Loftis
Magical Touch Quick Lube of St. Clair
Nancy Moore
Patricia & Larry Nichols
Riverview Community Federal Credit Union
Robert Reisig, DDS, P.C.
Rood's Barber Shop
Cynthia Rourke
Ed and Kathy Sadler
Karen Schneider
Silk Flower Shop
Stephan Padgett
Doug & Doreen Vernier
Vietnam Veterens of America, St. Clair 284
Young Funeral Home
The Water Lady, Inc.
CLIMB LEVEL
Nancy Black
Richard Buton
Class of 49
Gregory & Diane Cunningham
Jan Hunt
Marlane Gardner
Bonnie Landshoot
Charles & Marion Schweihofer
Jim & Cheryl Russell
Gordan Springborn
FUNDRAISERS
Ace Hardware - St. Clair
Black & Bleu, LLC
Blue Water Pizza Group, LLC
Mike Gardner
KD Estates
Neiman's Family Market
Road Rally Fundraiser
War Water Brewery
MATERIALS/SUPPLIES
Ace Hardware - St. Clair
Biewer Lumber, LLC
Adair Salvage Company
Mike Barnum, Speciality
Matt Brosky
EBW Playground
Fastenal, Port Huron
Bob & Trisha Grave
Lumberjack - St. Clair
MSC Industries
Ed Messineo
Pine River Group
Speciality Coating Inc.
St. Clair County Landfill
FOOD
Achatz Catering
The Brosky Family
Hungry Howie's Pizza - St. Clair
Jet's Pizza - St. Clair
The Martin Home Team
McDonald's - St. Clair
Murphy Inn
Neiman's Family Market
Refrigeration Company (Need Name)
Simply Silverware
The Ureel Family
Women's Life Chapter 814
LODGING
Blue Water Inn
Murphy Inn
ARTWORK
Mackenzie Barton
Jordan Pullman
Barry Beauchamp
John Brenner
Triple S Engraving
MARKETING
CTV - St. Clair
EBW.tv
Grindstone Stratagies
The Times Herald - Port Huron
The Voice Newspaper
WPHM
90.7 Hope FM
CITY
Mike Booth, City Superintendent
Shirley Aspenleiter, City Hall Receptionist
Creative Tots Preschool
Department of Public Works
Jessica Gilroy, City Treasurer
St. Clair Police Department
Recreation Commission & City Council Members

FIRST AID
Susan Daniels
Lisa Nancarrow
Co-Chairpersons
Matt Alley
Mike Ginop
Jason Stoltz

Fundraising Committee
Nikki Maurer
Trice Hawkins
Mike Gardner
Christy Treadaway  
Alysha McCabe

Volunteer Committee
Riley Alley
Tim Coughlin
Marketing/Food Committee
Lauren Martin
Karyn Alley
Lisa Brosky

Child Care Committee
Naomi Ginop
Jessica Johnston

Special Needs Committee
Laurie Krantz
Claudia Hansen


Tools/Material
Leo Colantuono
Tim Johnston
Bob Grave
Trish Grave

Play by Design
Leo Archin
Nate
Jason
Lisa DeShano
Samantha McAdams

Jason Stoltz
Mike Ginop
Matt Alley
Trevor Walker
Jesse Parker
Larry Stoltz
Doug Glassford
Hale Walker
Leo Colantuono
Matt Brosky
Roger Martin
Mike Alley 
BUILD WEEK VOLUNTEER GROUPS
Allstate Insurance Agency
Boy Scouts Troop 261
Brieden Orthodontics
C&K Heating and Cooling
Cargill Salt, Inc
Community Choice
Community Foundation of St. Clair County
Double Tree Port Huron - Hilton
DTE East China Group
DTE Peaker Group, EC
Ennis Center For Children, Inc
FoxRidge Roofing
Fresh Air Heating & Air Conditioning
Girl Scouts 315
Girlfriends Group 814
Maynard & Sons
MSC Industries
NORMA Group
Northstar Bank
PH Flags 2011
Plains LPG Services
RESA
River Crab Restaurant
Riverview Pet Care
Riverview Veterinary Clinic
Rotary Club of St. Clair
St. Clair High School - Student Council
St. Clair Police Department
Towbook Management Software
Woodland Development Center
ZF of Marysville